Carolyn's award-winning art work has been published in Catfancy, American style magazine, Atlanta style and design, Best of Artists volume I, Abstract and Still life Artists, and on the cover of the Journal of the American Veterinary Medical Association. Her painting of a Labrador Retriever is featured on one of the Georgia specialty license plates. "Helix the Cat", Carolyn's large eye-catching graphics on the sides of a mobile spay and neuter hospital, Catsnip, can be seen driving around the Atlanta metro area.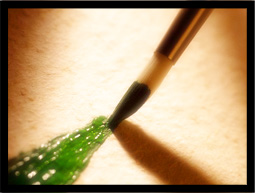 In the past seven years she has exhibited in over thirty-eight juried shows and has been recognized with several first place awards. The State Botanical Gardens and Callaway Gardens held solo shows of her work in Georgia. Artcandy Editions featured her work at Décor Expo Atlanta, and the next year Omega Molding exhibited Carolyn's paintings at Art Expo, Chicago.

Carolyn works from her studio in Bradenton and teaches acrylics at Art Center Manatee in Bradenton as well as other locations in the Bradenton-Sarasota area.
Her work is available at Art Uptown Gallery (Sarasota), Studio at Gulf and Pine (Anna Maria Island), and the Raiford Gallery (Roswell, GA).

She has a degree in art education from Auburn University and has taken numerous workshops from nationally known artists.

"What moves me to paint are the unnoticed miracles abundant in nature. I am intrigued by looking close-up and painting intimate views."

- Carolyn Ritter